Shannon Ogle – Sales Administrator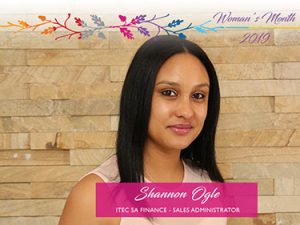 Take us through a typical day at work and what your role entails?
Organized chaos! This involves ensuring invoices and contracts are thoroughly checked and submitted timeously to funders. In addition, I ensure that the data received from dealers is in line with requirements etc.
What are some of the challenges and most satisfying aspects of working at Itec Group?
I sometimes feel there are not enough hours in the day to process all payments. The most satisfying thing would (definitely) be to have happy clients once all payments have been processed.
Tell us about the Itec work culture and people – what stands out for you?
The diversity of the company! It feels like your home away from home. What stands out are the friendly people that are always willing to lend a hand.
What habits do you follow consistently to excel at what you do?
Consistency! This is especially key in keeping track of every deal submitted and keeping clients informed. Communication is imperative!
Tell us a bit about yourself? Family etc…
I'm a "witty" married mom who has 3 beautiful children. I'm a straight shooter and never back down from a challenge. I absolutely love animals.
What is your life motto?
Love. Food. Life – simple!
Favourite pass time?
Enjoying scrumptious meals with close friends and family.
Do you have any hobbies?
Cooking and organizing. I am also involved in rescuing abused and abandoned animals.