Kimberley Nunes – Administrative Co-ordinator, Resolution Centre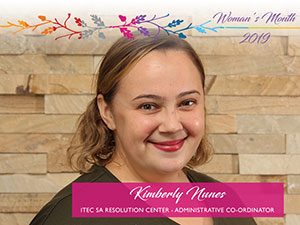 Take us through a typical day at work and what your role entails? – Coffee is the first thing! I then proceed to working through my reports and queries. I make sure the correct billing takes place, from stock to G/L accounts to our customers accounts. I also assist internally with other departments in their billing or PO queries.
What are some of the challenges and most satisfying aspects of working at Itec Group? – I'd like to think that saying they're challenges would be miscommunicating or a difference in perception. What is satisfying to me is working hard while achieving positive results and having amazing people who work with you in seeing the bigger picture. You also get to build healthy relationships in the process.
Tell us about the Itec work culture and people – what stands out for you? – The biggest thing that stands out for me is the amount of kindness and helpfulness some of the individuals illustrate, this is even when it's not their job function. They are happy to assist or go a little extra by helping you solve any problem. That support structure I think makes Itec stand out, knowing that there's someone there to help you even on a tough day more than helps.
What habits do you follow consistently to excel at what you do? – Reliability, consistency and knowledge. In addition to that, understanding the bigger picture and how my role integrates into the entire business has a positive effect on me.
Tell us a bit about yourself? Family etc… – I am the eldest of 4, I have the cutest niece and a very close relationship with my family and friends. I'm a very honest and bubbly person and enjoy deep and interesting conversations. I'm also a huge fan of theorizing and contemplating our existence, purpose and the psychology of humankind.
What is your life motto? – Prepare for the worst and hope for the best!
Favourite past time? – Playing Board Games, swimming and being outdoors in nature.
Do you have any hobbies? Yes! Talking, reading, writing, movies, adventures, thrill seeking fun (bungee jumping), and LOTS of Games from the Amazing Race to Cluedo!