Thank you – From Ikamva Labantu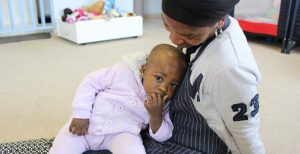 Itec has made numerous generous contributions to Ikamva Labantu and a significant investment in the wellbeing of thousands of young children in South Africa.
Thank you!
Let's update you about the current work and activities of their Early Childhood Development Practitioners at the Kwakhanya Training Centre in Khayelitsha. They use a specially developed learning programme to stimulate children from infant through to toddler and provide an optimal environment for their development. The same curriculum is taught to and practised by many practitioners throughout the township communities in Cape Town.
Promoting language development in infants and toddlers is one of the key focus areas of Ikamva Labantu's learning programme. Da-da, ma-ma, ba-ba… clapping, pointing, vocalising, rhymes – and they are off to a good start with the caring practitioners who talk and read to the babies and actively listen to them.
Tummy-time, lap-time, story-time are all critical daily activities for the healthy development of our youngest children.
Their team has put together something on their blog to show you how contributions are the first essential flap in the "butterfly effect" that translates to the development of even our youngest minds. Don't miss their video!