CARINA ENGELBRECHT BLAZING A TRAIL FOR WOMEN IN IT SALES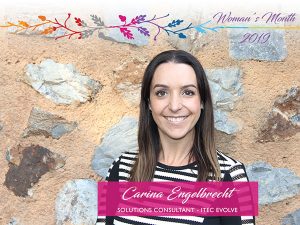 It takes a lot to be successful in sales. It takes even more to be a successful woman in sales. But that's not going to stand in the way of 39 year-old Carina Engelbrecht, who's breaking glass ceilings and changing perceptions as she works to close the lingering gender gaps in the local IT industry.
In fact, Engelbrecht, who's one of business solutions provider Itec South Africa's top consultants, believes that being a female can be a huge advantage in the sales industry right now, as the sales role shifts from being a dropper of boxes and signer of orders to a genuine business partner.
"There's no doubt that there's still a gender gap in the IT industry – in the way men and women are treated, in the way they are perceived, in the way they are paid. But that's changing. What clients value today is relationships: the ability to listen, think and act creatively, look for opportunities and solve problems that most miss," says Engelbrecht.
Engelbrecht has a business diploma and more than a decade of experience in networking, securing new business opportunities and creating momentum for corporate clients. But while her clients span a range of industries, including the staffing solutions, education, financial and FMCG sectors, they all have one thing in common: they're looking for solutions to business problems.
"The customers' top focus is not about technical jargon and product features – they care about solving their problems. The way you add value to your clients' operations is not by selling them products. It's by simplifying processes, reducing costs and increasing business efficiency," she says.
Engelbrecht was recently named as Itec's top salesperson for the year, an award she puts down to working for an organisation that has the flexibility and technology capabilities to implement the solutions she co-crafts with her clients and the very experienced product managers at Itec.
"It's great to work for a company that actually walks the business partnership talk. Good managed services providers act as virtual CIOs for many companies, helping the business make the most of technologies like cloud, mobile device management, and next generation security solutions. It's all about being an IT partner to the business, and cutting through the clutter," she says.
Any top tips for women wanting to climb the sales ladder in the South African IT industry? "Simple: listen more than you talk. Focus on building trust and relationships. The easiest way women can excel in the technology space today is through their commitment to service delivery and partnerships. It's our time," says Englebrecht.
When asked what motivates her, Engelbrecht says "Being me, making a difference because I am different and most importantly integrity which is the seed for achievement – it's the principle that never fails".
In her downtime Engelbrecht loves long lunches with friends and getting into a good book to escape from work. The mantra she lives by is "There is more to being classy than simply being stylish and confident. Being classy means being kind, respectful and polite even to those who are unkind to you."